i-Ready Classroom Mathematics are the instructional materials to support math instruction in elementary. We are excited to share that your student can continue to access the online components through the month of June! We've seen amazing growth from students who work on their Personalized Instruction pass just 30-49 minutes per week! Your student can continue learning during the summer with i-Ready lessons and Learning Games! i-Ready Personalized Instruction provides students with lessons based on their individual skill level and needs, so they can learn at a pace that is just right for them. These lessons are fun and interactive to keep your student engaged as they learn. Learning Games for Mathematics allow students to practice math in fun and engaging ways, helping them develop a positive view of math. Click here for more information:
https://5il.co/1bf9p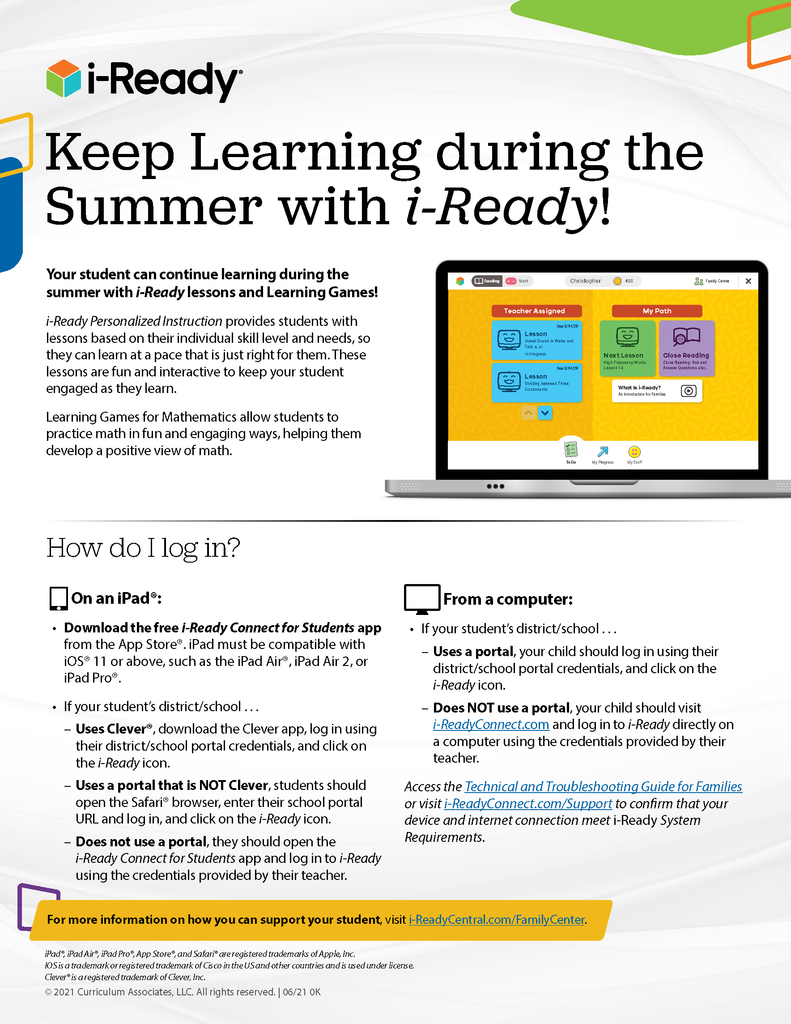 Trivia Night to help LCPS teachers is set for Wednesday, June 8 at the Game II beginning at 6:30 p.m. Trivia will be on the patio so dress appropriately. Come defend your title, redeem yourselves or join in the fun for the first time! Teams consist of 4 members for a fee of $55. You may register more than one team at a time. All team members will be registered under the name of the person who completes this process. Register your team here:
https://secure.givelively.org/donate/las-cruces-public-schools-foundation/trivia-night-june-8
or text TriviaJune to 44321. For questions, contact Michael at 575-640-1923 or send an email to
lcpsfoundation2@hotmail.com
. Click here to download flyer and register:
https://5il.co/1b2of
. All proceeds support $100 to supply mini-grants for LCPS teachers.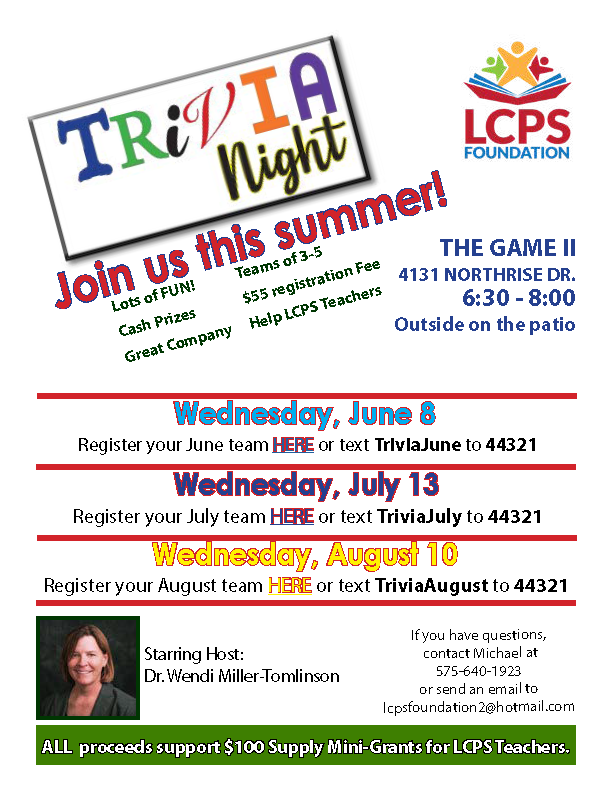 Good Morning MVLA. On this last day of school, please have students leave their backpacks at home. Anyone who brings bags to school will need to turn them into the office until dismissal. Dismissal is at 11:30. Students will be able to grab a lunch to take with them today.

Good afternoon MVLA! Tomorrow is the last day of school. Dismissal time will be at 11:30. Students will be able to grab a lunch to take with them as they get picked up.

Hi MVLA Parents! Are you concerned that you do not know enough about Vaping and the dangers of Vaping? Mary Morgan has agreed to do a final vaping presentation this coming Friday, May 27, 2022 at 06:30 p.m. at 1122 Sixth St. in Las Cruces, NM. Please spread the word to anyone who may be interested. They may RSVP to 915-317-9428.

Hi MVLA! Tomorrow is Field Day. Please make sure students wear clothes that can dry quickly, but that they are not wearing swimsuits. Towels, hats and sunscreen are advisable. Donations of popsicles or Gatorades are welcome.

PMG Summer Hours and Test to Stay - Beginning Thursday, May 26th, PMG will be operating drive through locations at LCHS, MHS and OMHS from 7a-6p. They will be open May 26th and 27th, closed 30th and 31st for Memorial Day and open back up for students and staff and those participating in ELT, ESY and High School Summer School at LCHS, MHS, OMHS from June 1-30th. There will be NO TEST TO STAY the last day of school, Wednesday, May 25th. There WILL BE Test to Stay available during ELT, ESY and High School Summer School.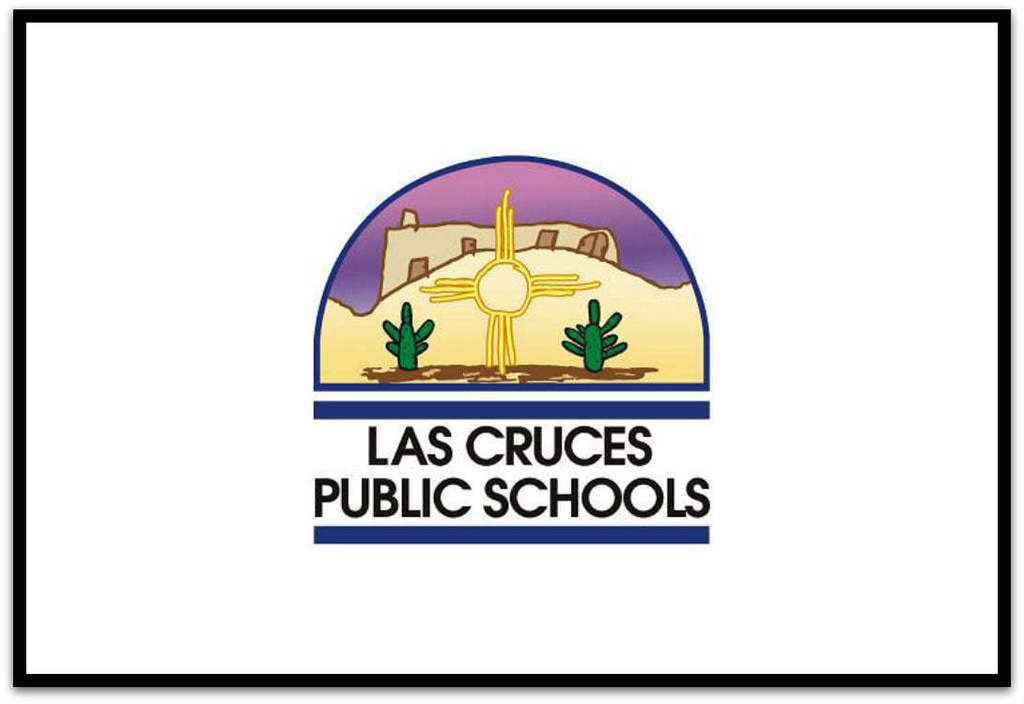 Star Trek v Star Wars Day MVLA!!


Are you looking for something new and exciting? Are you certified in Social Studies? MVLA is hiring for the 22-23 School Year. Submit your application TODAY!

Looking forward to tonight's 8th grade ceremony! 8th graders dress to impress!! Can't wait!!

Come to the Downtown Plaza to support our Amazing students participating in the Kids Can competition!!!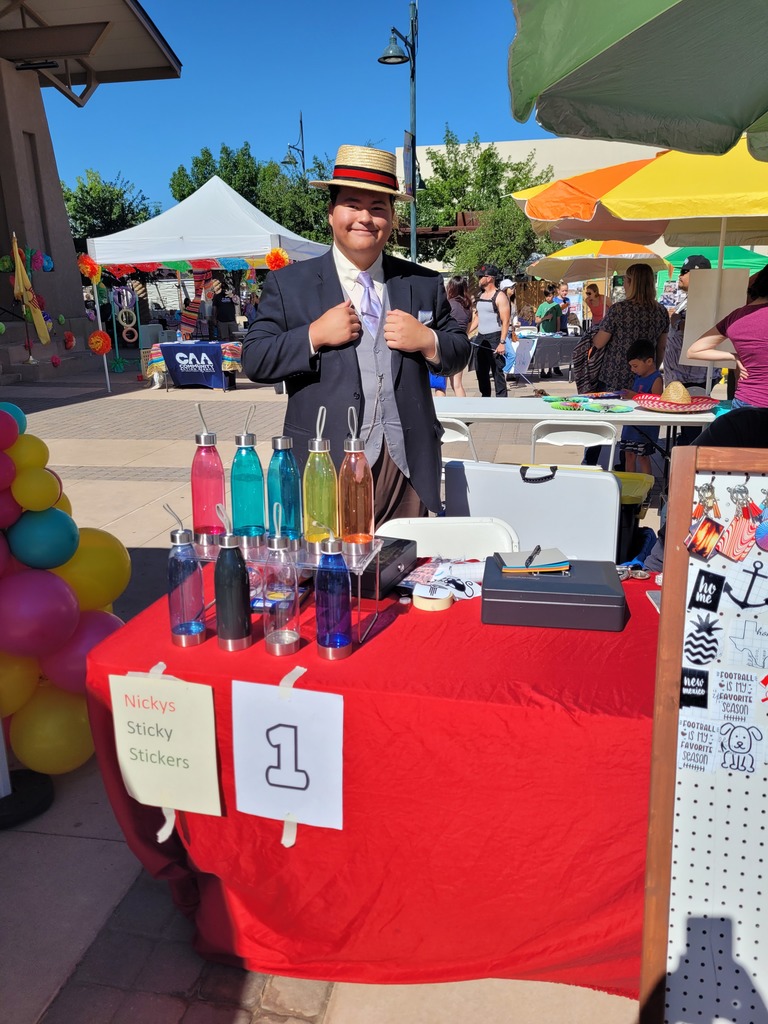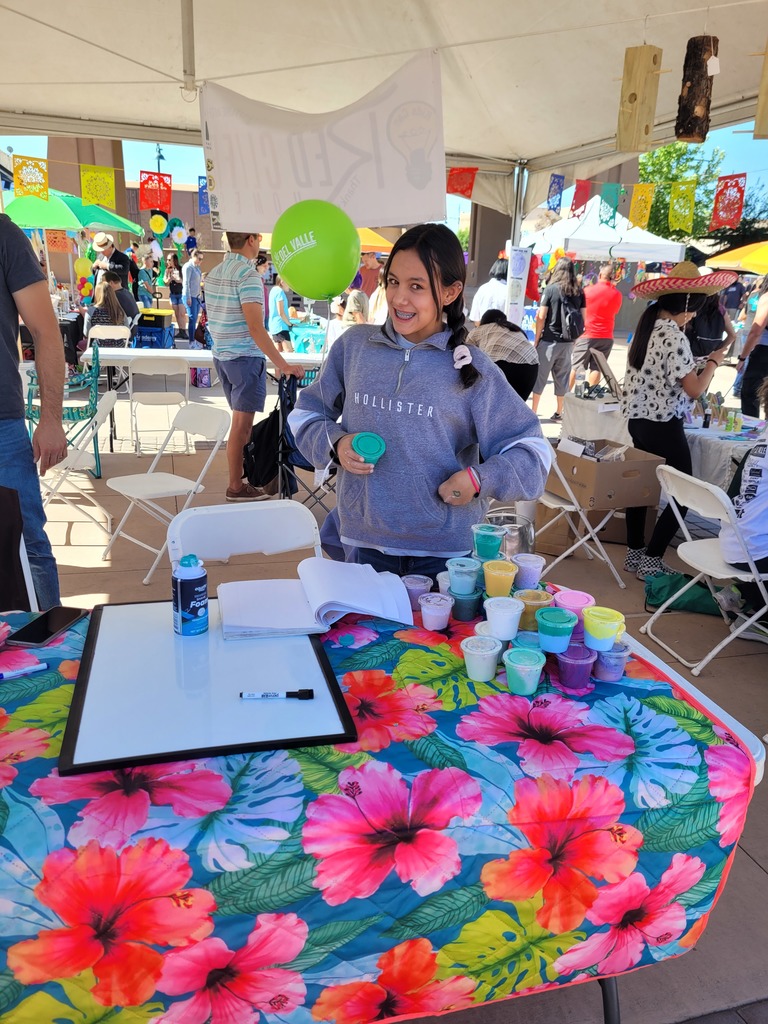 NMSU Verizon Summer Camp - Every student deserves access to a better future. That's why we've launched the Verizon Innovative Learning STEM Achievers program– an engaging, hands-on program developed to enrich learning through design thinking, 3D printing, augmented reality, social entrepreneurship and mentorship. This program creates a more diverse pipeline for future careers in science, technology, engineering and math (STEM) fields; no prior knowledge or experience is required. The program takes place over the course of two 3-week sessions. June 27 - July 15, 2022 from 9:00 AM - 4:00 PM Session 1: Boys | Session 2: Girls. • The program will take place in person. Registrants will be notified by the program director regarding the specific details of the program. • Lunch will be provided (if in person). • The program is inclusive and welcomes all genders and nonbinary youth. • Free for students. •Transportation will be provided in varying locations. Click the link to download this flyer:
https://5il.co/1ajw4
. To register, visit
https://bit.ly/STEMAchievers

Dr. Karen M. Trujillo Poetry Contest Award Ceremony - Did you know that the late LCPS Superintendent, Dr. Karen Trujillo, was a poet? In order to honor her legacy, there will be an award ceremony for the best poem held on May 12, 2022, arrival for guests will be at 2:15 p.m. in the Commons area at Organ Mountain High School, located at 5700 Mesa Grande Dr, Las Cruces, NM 88011. The top three student winners will be reading aloud their winning poems. Ben Trujillo from the Dr. Karen M Trujillo Memorial Foundation will be there to hand the students their cash prizes. A jury of five area English teachers chose the following winners: $500 First Place goes to Mariana Tablon for her poem "Self-Sabotage", $250 Second Place goes to Delilah Garcia for her poem "Overwhelmed", and $100 Third Place goes to Melaina Mittel for her poem "The Lies Are Before the Foothill." For questions, please contact Tim Staley, area poet and educator, who oversaw this inaugural contest.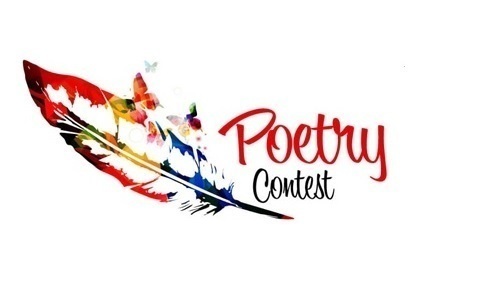 Las Cruces Public Schools will be hosting a job fair for educational assistants on May 19, from 8:00 a.m. to 12:00 p.m. in the TLC Learning Center located at 505 S. Main Street, Suite 400, Las Cruces, NM in the Doña Ana Room. To schedule an interview, contact Anisa Schomburg at
aschomburg@lcps.net
.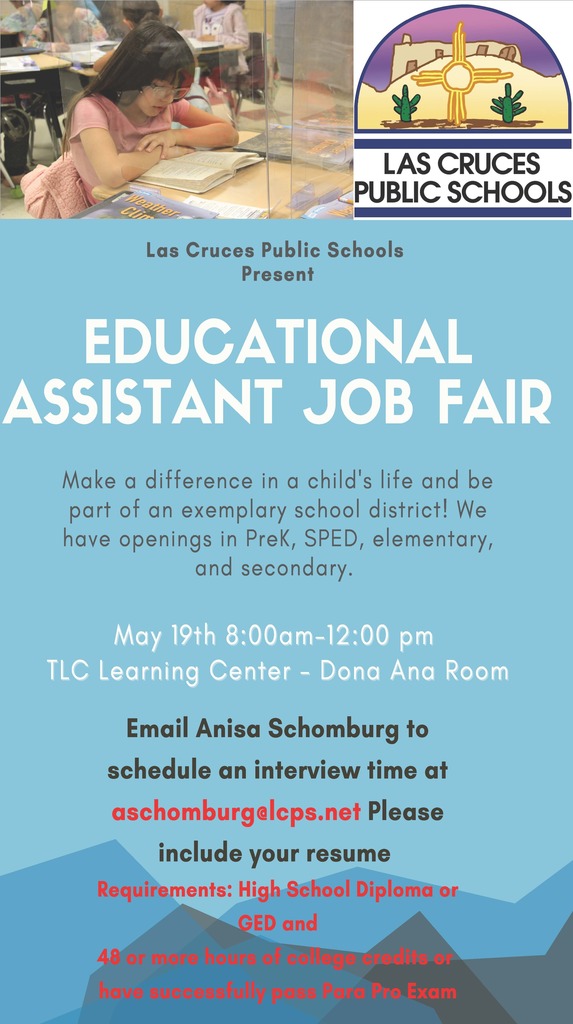 Good afternoon MVLA Families! As we wrap up the year, we are finding a lot of extra water bottles, abandoned jackets, etc.. Any items not picked up will be donated to Goodwill. Also, please remind students to bring their devices charged and ready to go. We still have some end of year assessments happening. Happy Tuesday!!

Registration is now open for Advanced Pre-K! The Las Cruces Public Schools Advanced Pre-K classroom is designed to serve students who do not meet the age requirements to start kindergarten and exhibit characteristics of advanced learning, as measured by screenings. The program is a collaboration between New Mexico State University (NMSU) and Las Cruces Public School (LCPS) and serves as a lab school for NMSU early childhood programs. The program is a collaboration between New Mexico State University (NMSU) and Las Cruces Public School (LCPS) and serves as a lab school for NMSU early childhood programs. Six slots in the program are reserved for children of NMSU students and staff. Registration:
https://forms.gle/RMux1u7pY2ubVGDL9
Learn more:
https://www.lcps.net/page/advanced-prek

Hi MVLA! Unfortunately, due to unforeseen circumstances, we will not be hosting an Open Night Mic on Tuesday evening. We will likely just hold the event during the school day. Thank you for your support and understanding.

In collaboration with our community partners, the Southwest School to Work Transition Team will be hosting this year's 2022 Transition Fair on May 10, from 10am-5pm in front of the LCPS Administration building: Dr. Karen Trujillo Complex (505 S. Main St., LC, NM 88001). During the event, we hope to be able to connect students with benefits, resources, and supports, as well as training and employment opportunities. The event will take place outdoors to allow plenty of room to interact safely and comfortably. We're excited to be returning to an in-person format and expect to reach individuals from LCPS, HVPS, GISD, and surrounding areas. I am cordially inviting you to come, join us, and meet the different agencies in our community. About the Southwest School to Work Transition Team: The Southwest School to Work Transition Team is made up of partners from various state agencies, school districts, non-profits, and other agencies/organizations with an interest in serving youth enrolled with local school districts, colleges, trade schools and more. If you would like to register to present information at this event, please scan the QR Code or visit:
https://docs.google.com/forms/d/e/1FAIpQLSdHbgj53c4tSgCFYijXoN6tNFpjMNc3_oYAuZu30JZMydNFqA/viewform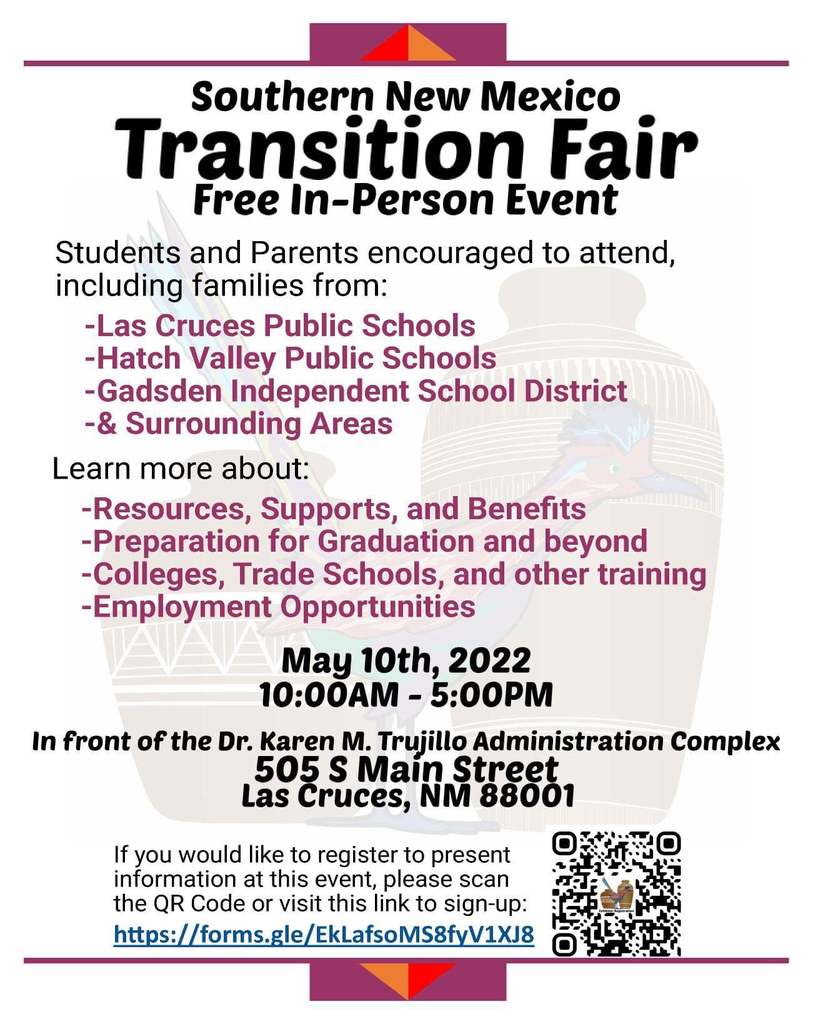 Hi MVLA Families! 8th graders are now able to get their tickets to the 8th grade ceremony. There are 4 tickets per students. Please return any tickets that will not be used. Those will be available to other families who need them on a first come first serve basis. The ceremony is Saturday May 14th at 6:30pm at MVLA, 821 E. Lohman.